Walton's Dachshunds is located in rural Western New York. We are breeders of AKC miniature and small standard dachshunds in most colors and patterns and all three coat types. Our puppies are raised in our home in a warm, loving environment with lots of attention and affection from all members of our family.
We strive to provide you with an adorable, healthy, playful puppy that will be a treasured member of your family for many years to come. We like to think they go from our lap to yours!
We are fully compliant with the American Kennel Club, and we are licensed by the New York State Department of Agriculture and Markets.
PD714
All but one of our April/May litters have arrived! We will be updating and posting puppy pictures in the very near future. If you see a pup that you are interested in, prior to contacting us, please take a few moments to read over the Purchasing Information and Frequently Asked Questions. You may find many of the answers to your questions, in addition to other helpful info regarding food, immunizations, purchasing process, etc...., on these pages.
Upcoming Litters
Ivy and Fletcher ~ April 12th, 2016 Faith and Sealy ~April 30th,2016 Leetah and Jake~May 1st, 2016 Zola and Rudee ~May 1st, 2016 Pixie and Finn~May 7th, 2016
Happy words from happy owners...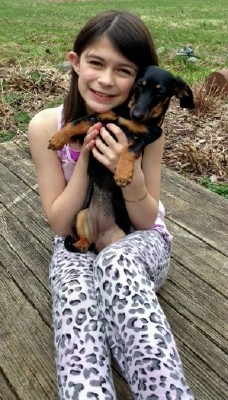 Dear Kim,
I don't know if you remember us but we bought Dottie and we just wanted to let you know what a wonderful, adorable,amazing and playful addition she has been to our family.
She loves to be outside, she is very playful but also loves to snuggle we can't thank you enough for our perfect dachshund puppy!
Sincerely
- Stephanie & Mark