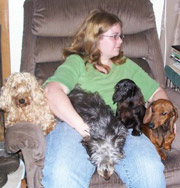 Walton's Dachshunds is located in rural Western New York. We are breeders of AKC miniature and small standard dachshunds in most colors and patterns and all three coat types. Our puppies are raised in our home in a warm, loving environment with lots of attention and affection from all members of our family.
We strive to provide you with an adorable, healthy, playful puppy that will be a treasured member of your family for many years to come. We like to think they go from our lap to yours!

We are fully compliant with the American Kennel Club, and we are licensed by the New York State Department of Agriculture and Markets.
PD 00714

All pups are now on the site, until Venie and Slyv have their babies.
Upcoming Litters:
February 23rd, 2014~Reid's Blue Venus and Turner's Jackson Pollock
March 5th, 2014~Reid's Blue Sylvie and Walton's Fritz
Happy words from happy owners...
Kim,
I just want to say thank you again for the second addition to my family. Little Leelu is so sweet and loving, and is a cuddler just like Milo. They play together constantly, and keep each other company while I am away.
THANK YOU!!
- Lauren Newton