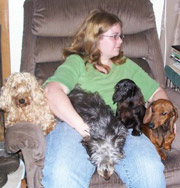 Walton's Dachshunds is located in rural Western New York. We are breeders of AKC miniature and small standard dachshunds in most colors and patterns and all three coat types. Our puppies are raised in our home in a warm, loving environment with lots of attention and affection from all members of our family.
We strive to provide you with an adorable, healthy, playful puppy that will be a treasured member of your family for many years to come. We like to think they go from our lap to yours!

We are fully compliant with the American Kennel Club, and we are licensed by the New York State Department of Agriculture and Markets.
PD 00714

Sylvie's pups are now on the site. My brother in law still has two smooth males and a chocolate and tan wirehair female available. Stay tuned for pictures of Delta's pups!
Upcoming Litters:
April 7th, 2014~Delta and Fritz~Pups arrived on 4/5. Three black and tan boys and two blue and tan girls.
April 10th, 2014~Kallie O Mallie and Jake
Happy words from happy owners...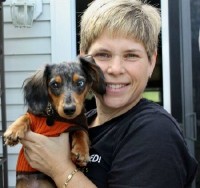 Hi Kim,
I wanted to send you this picture of our Teddy, born on 1/7/10. He has been a true joy to our family!! We cannot begin to tell you how cute of a personality Teddy has. Of course he is spoiled by everyone in the house, but you can't help it because he is so sweet. He has also turned into quite the lap dog. He doesn't wear clothes a lot but he loves having a sweater on when it is cold. We could not have picked a nicer dog. Thank you so much for raising such adorable puppies!!
Sincerely,
- Ellen and Gina